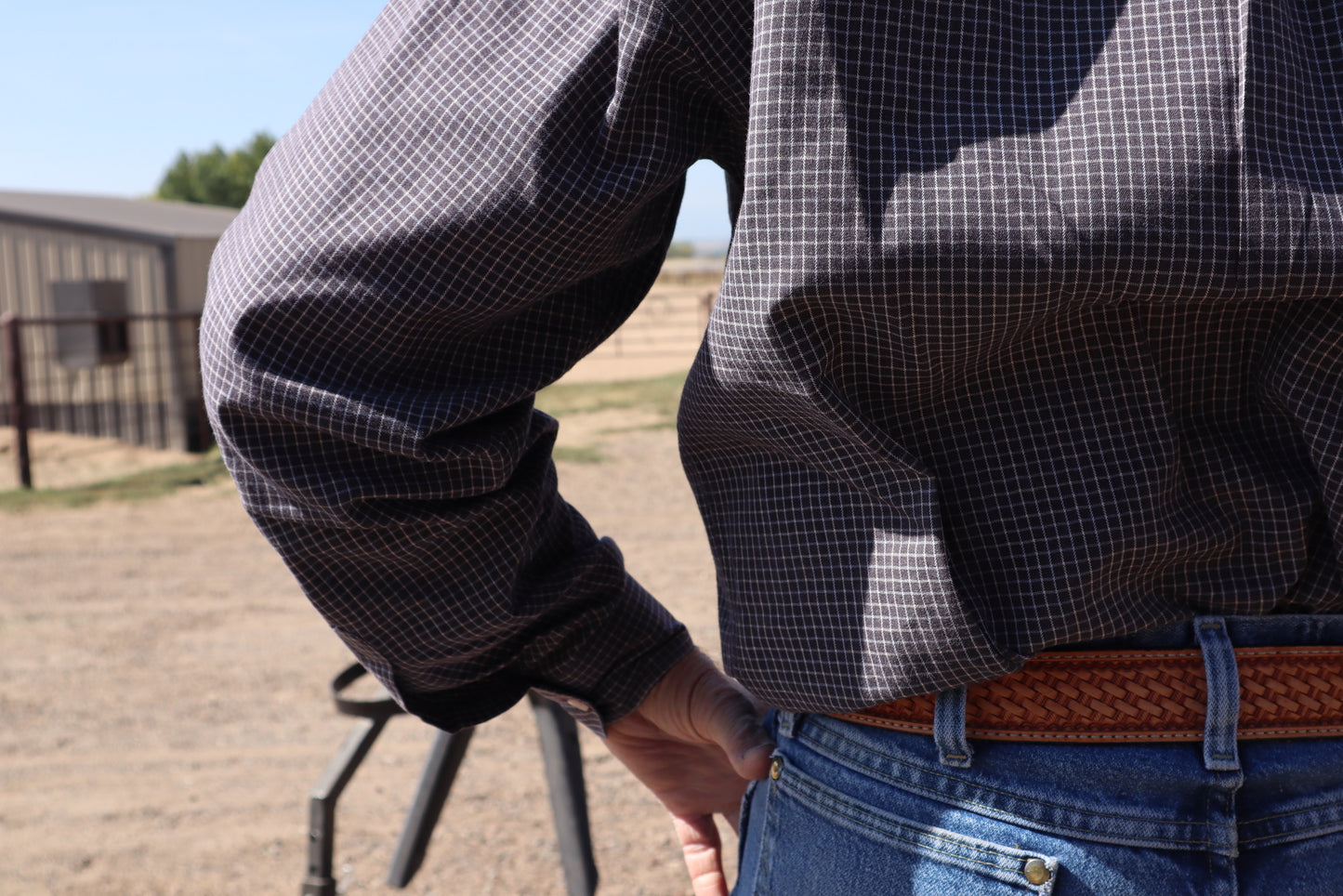 Alright fellas, the women in your life had their moment in our previous post, but now it's your turn to kick things up a notch, style-wise. Now, we know what you are thinking, "I have 125 demands on my plate at any given time – I don't have the time or bandwidth to learn about accessorizing!". Yes, it can definitely be overwhelming to learn about style (especially if you are not exactly "fashion inclined"), but that is why you should just start with an easy accessory - a belt. 
A belt is a perfect investment because it is so simple yet classic. In fact, belts are a great staple piece that can be worn anywhere, from more formal belts for settings like the boardroom, a wedding, or date night - to casual belts for situations like working outside, a BBQ with friends, and relaxing on the weekends. A belt seems like such a small detail, but it really makes a difference and is quite often overlooked.
Now, you really can't go wrong with a leather belt and it is a great choice, even for fashion beginners. Leather itself is timeless - and a leather belt, in particular, can be suave and effortlessly cool or even rugged and masculine, depending on your personal style. Regardless, any guy can level up his style with the simple addition of a leather belt and it requires very little effort. 
So, let's get to it! To make things nice and easy, we took on the mountain of advice and rules to bring you only the very basic, need-to-know, belt guidelines. If you are ready, let's dive in and make sure your style is attention-grabbing, for all the right reasons. 
A Belt Breakdown
Let's begin with the basic construction of a belt. Belts come with a variety of buckles and materials from which to choose. 
There are 7 main buckle types used on belts. Frame-style buckles are the most commonly known and utilized buckle type. This is what you will see most often when shopping for a belt, and it is always a safe bet as frame-style is very durable and straightforward. However, if you happen to be someone who likes a bolder statement piece or wants to make your belt the focal point of your outfit - a great way to do that is with the plate-style buckle. It is often larger and gives you a chance to really showcase your personality with an awesome design or etching in the metal belt buckle. 
Next up, are the main materials used to make belts. These can be leather, suede, canvas, webbing, rope, vinyl, and faux leather. While each material can have a place and purpose in your wardrobe, one of the more popular materials is leather. This is because it truly stands the test of time and pairs so well with any attire and occasion. Of course, here at Texas Saddlery, we value a high-quality leather belt, but really it all comes down to the look you want to achieve. I mean, if you are out there rocking your best blue suede shoes - then by all means get that suede belt to go with them!
When to Wear A Belt
Now that you have an idea of the different kinds of belts that are available to you, let's talk about when to wear your belt. Fashion experts agree that anytime you're wearing a pair of pants with belt loops - you should be wearing a belt. Without this extra step, your outfit looks incomplete, so a belt will help bring cohesion and refinement to your whole look. Other times to wear a belt are when your shirt is tucked in, you are wearing a jacket/blazer, and if your outfit is all one color since a belt will break things up and add dimension. Fashion advice also states that you should match your belt to the color of your shoes, especially on more formal occasions; but, if you choose to shake things up, there is a bit more freedom with a casual outfit.   
Why A Leather Belt
Finally, let's get into why every man should have at least one leather belt in his wardrobe. Leather is a great material for belts as it is durable, flexible, and extremely versatile. It can be dressed up or down and the material can be manipulated in several ways through tooling or braiding to give you a style and fit that is all your own. What's more, while leather is strong and tough, it still maintains a level of pliability so it will conform to your movements and body as you wear it. It really is the best of both worlds - you have room to breathe, but still have structure. 
For that cherry on top - leather belts are actually pretty simple to care for and keep in good condition. While you want your belt to move with your body, the leather can break down faster without any rest. It is recommended to rotate between at least 2 belts, which will give them proper time to "rest" while hanging in your closet. Between this and cleaning your belt with a little water and soap (avoiding oversaturation) and utilizing some leather conditioner every so often - you have the basics behind prolonging the life of your leather belt. Essentially, it's more bang for your buck and there is not this consistent replacing of belts and wasting of your hard-earned money. 
So, you now know the hidden value a belt brings to your wardrobe, and more specifically, how easy and functional a leather belt can be. That wasn't too bad, right? Just a simple addition to your closet and you are ready to boost your style and turn heads! 
If you now find yourself looking to shake things up with a new leather belt, don't forget to check out our shop and our awesome collection of leather belts!