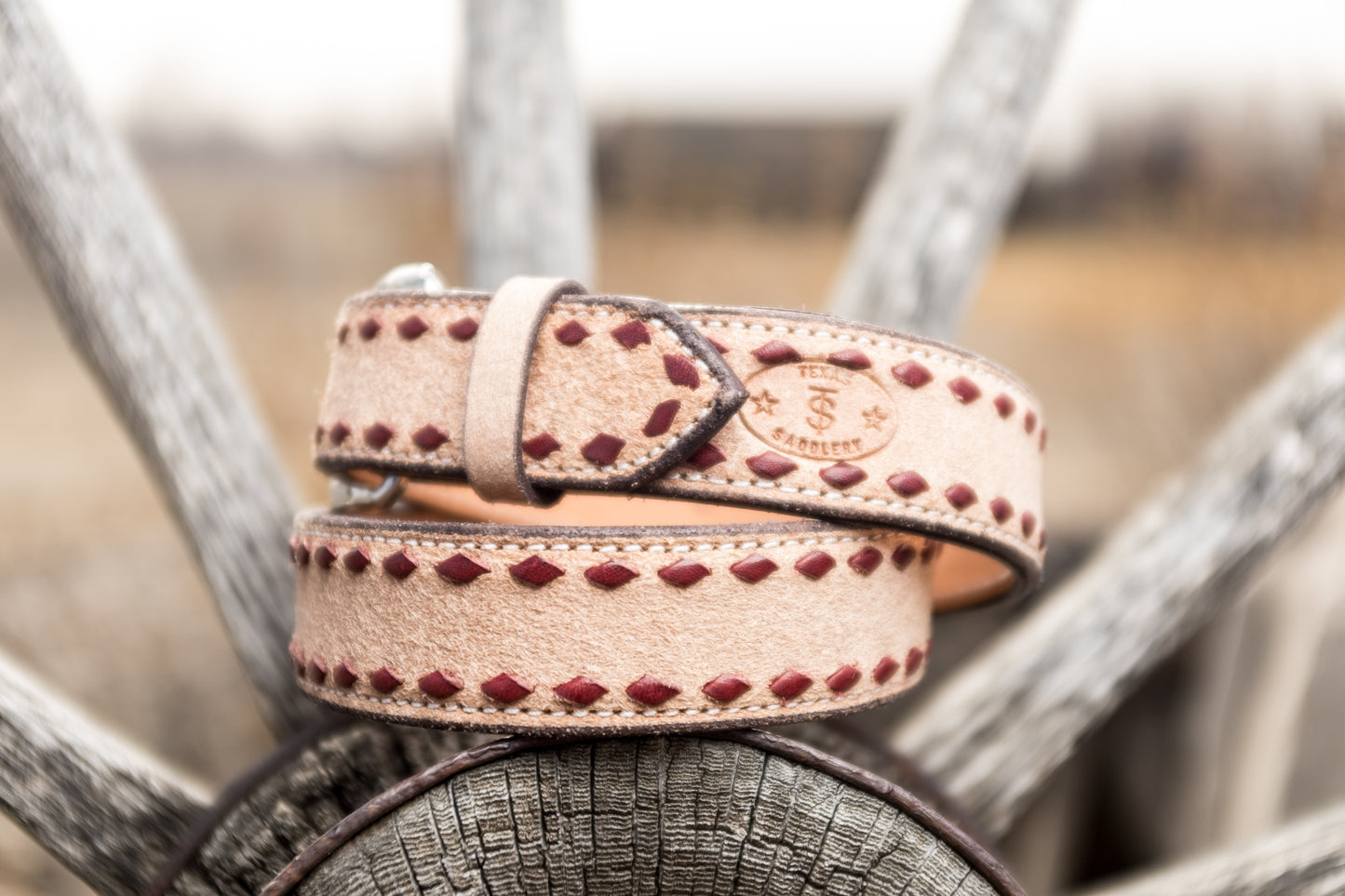 It seems like each morning there is a new fashion trend making the rounds on social media. While it is probably best to avoid the ever-troubling low-rise jeans fad, one thing is for sure – a belt is always in style! Belts can be used in a myriad of ways and should be a staple in any woman's wardrobe. Because a belt is such a versatile piece, it is worth making an investment in a higher quality option, like leather, that remains timeless amidst the constantly revolving door of fashion trends. 
So, if you are ready to take on your closet and step out of those leggings and joggers (I know, I'm fighting it too), then let's make sure you are prepared. We will discuss different ways to style your belt and why a leather belt in particular is a perfect, tastefully trendy addition to any #OOTD.   
The Purpose of a Belt
Alright, let's start with the very basics. In terms of style, what is a belt? A belt is an accessory – it completes your look by adding dimension and an extra level of refinement. Choosing a belt with a specific color or texture/pattern can give a classic look more of a statement or it can be used to tone down a bolder outfit. You can even manipulate your look by using a wide or narrow belt. Accessorizing with a belt gives you a chance to show your personality and have some fun with your wardrobe. Once you start playing around you will find the options are endless! 
Different Ways to Style a Belt
So, you have your belt in hand and are ready to accessorize! Luckily, a belt can go with just about any outfit – this is what makes it such a great investment. But let's examine three main categories - dresses, tops, and bottoms – to give you a jumping off point next time you are putting together a look. 
Dresses
Add a belt to a dress for an evening out or business meeting to give an extra bit of polish or accent. 

If a dress is flowy or even a bit boxy (like a t-shirt dress), a belt can add definition to your waist and draw the eye to either create the illusion of or highlight your hourglass shape.

Make a dress more casual or bohemian by adding a belt with texture, like a braided belt or one with fringe. 
Tops
Just like a dress, if your top is flowy or boxy, give it a belt to cinch in that waistline.

Pairing a belt over your blazer or cardigan can add a feminine flair with a professional twist. Or, wear it underneath an open cardigan or jacket, giving a subtle hint of your figure without making it the focal point. 
Bottoms
Of course, the most classic way to wear your belt is through the belt loops on your jeans or pants. Without it, sometimes those empty loops can make your look seem incomplete. But, a word of advice from fashion icon

Tan France

, "If you need the belt to hold up your pants, you've got the wrong pants on. You're wearing the wrong size. Do not wear it for function, wear it for fashion."

Pair a belt at the band of your skirt to seamlessly cover the transition from your skirt to your top and give the look cohesion.

If you choose a wide leg or baggy pant, utilizing a belt will give some shape back to your waist and figure.
The Benefits of a Leather Belt
The longevity and overall look of your belt depends on the material you choose. A favorite here at Texas Saddlery (hint, hint) is leather. Leather belts are a classic and extremely versatile. They can be formal, streetwear/casual, rocker, western, bohemian, professional, vintage - really any look you are after can be achieved with a leather belt! Leather is also incredibly durable and long-lasting which is why it has been utilized for centuries.  
Leather offers a certain level of pliability and will stretch and mold to your shape. As you wear your belt, the material bends and moves with your body so your range of motion is unrestricted during whichever activity you choose. This does not mean though that it will over-stretch, like jegging material would, for example. While leather does soften with use, it is still very sturdy so it will maintain its shape and fit - just with a bit more comfort. 
Furthermore, it is so easy to customize a leather belt to fit your personal style. Switch things up with a dyed leather, braided style, or even a hand-cut design like we offer here at Texas Saddlery. Leather is malleable and can be altered to fit your individual tastes.
Leather is also resilient unlike traditional fabrics that over time will fade, break, or begin to unravel. In a post by Liberty Leather Goods, they state, "leather is the go-to material for belts because it stands up to being bent, folded, and cinched without sustaining any damage." In fact, simple conditioning with a balm or oil is the only recommendation they give to keep your belt looking fresh.
Now you know that only a few belt basics are required before you are ready to take the reins! I promise, the more you play with your style, the more you will fall into your own look and what makes you feel comfortable, confident, and "on fleek". Finding yourself in the mood to amp up your style? Feel free to browse our collection of genuine leather belts and see if anything catches your eye!