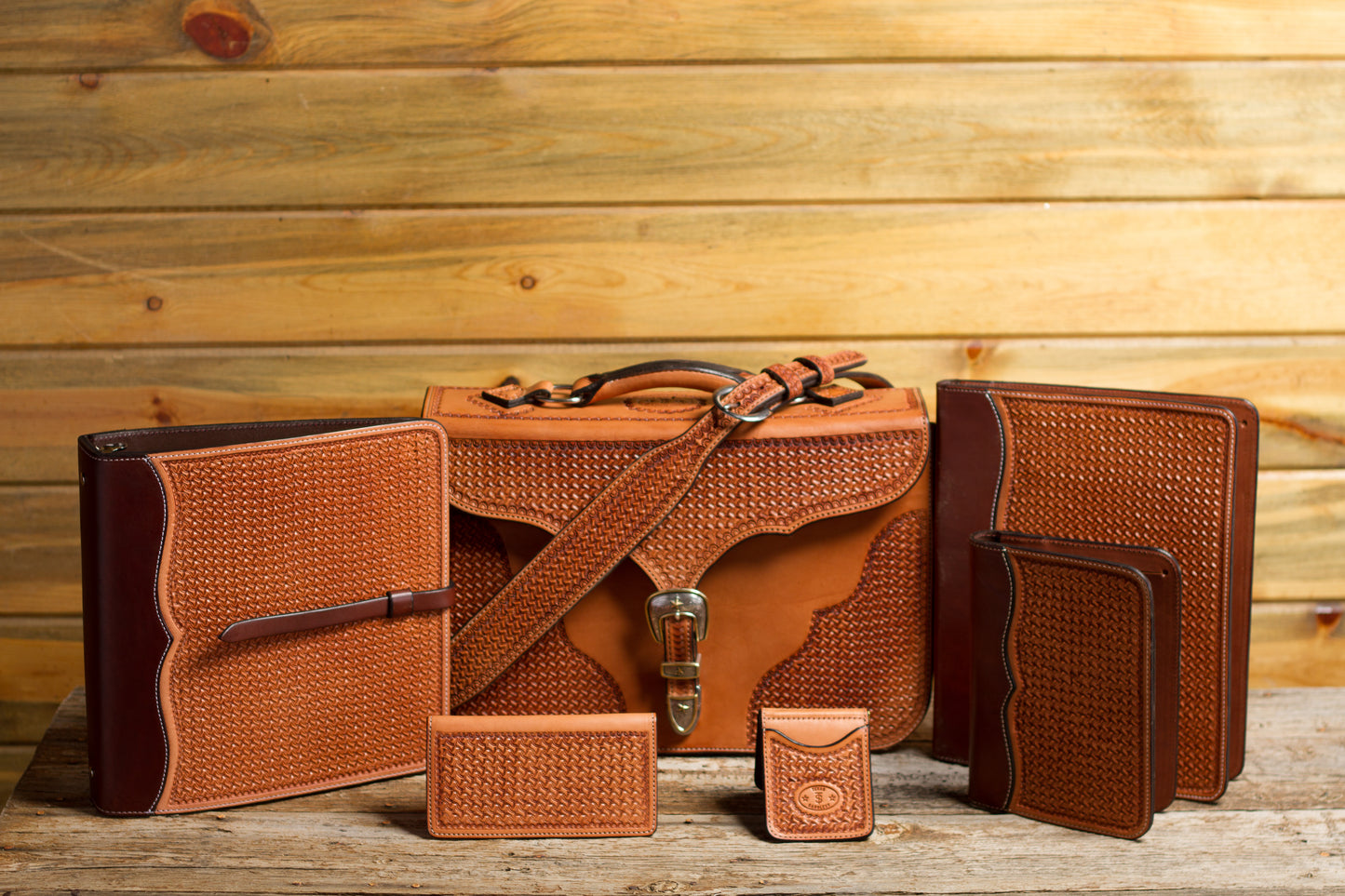 Tired of buying the same old holiday gifts for your friends and family? Or giving impersonal gift certificates as presents? The holiday season is fast approaching, unique gift ideas are in high demand, and we have you covered! With a wide range of professional items, home decor, and accessories, Texas Saddlery has gifts for everyone on your list! Our catalog showcases a variety of leather items handcrafted with the finest materials to ensure a one-of-a-kind design. We have put together a quick shopper's guide to make your gift-giving a little easier this year!
For the Professional
Some unique gift ideas for the hard-to-shop-for professional in your life could include our hand-stamped money clips or the exquisitely designed spider briefcase. These items are not only useful, but they are durable pieces that will last a lifetime. You may even find that they can be passed down to younger generations for continued use. Serving a practical purpose, they are also thoughtful gifts for a practical person!
For the New Homeowner
Do you have a friend or relative celebrating their first holiday season in their new home? Instead of centerpiece flowers for the table, you may consider something different. Our custom tumbler covers (glassware included!), and coaster sets are fun gifts that can double as housewarming presents. We also carry a beautifully made decorative wine carrier. Fill it with a bottle of your favorite wine or champagne for a festive holiday dinner contribution!
For the Sentimental
Struggling with what to get the matriarch of your family? Our floral-tooled photo album is a remarkable gift of love for that sentimental person in your life. You can add your photos and keepsake notes as part of the gift, or let your loved one add their own. The album will look beautiful on the coffee table or can remain well-kept on the bookshelf. This special gift is one that will stand out among the rest!
Apparel Accessories
For apparel accessories, we have a broad selection of intricately designed belts to choose from, and many designs are currently on sale! If your gift recipient already has one of our belts, check out our hat options as a complementary accessory item. Our designs are simple yet stylish and are created for even the most rugged individual. The variety of patterns will make it easy to choose the perfect belt or hat!
Budget Buys
Shopping on a budget this year? Be sure to check out the Bargain Barn for our lowest-priced items. With these items priced to sell, you may be able to find something for everyone on your shopping list. If the Bargain Barn isn't what you're looking for, make sure to keep an eye out for our Black Friday and Cyber Monday sales along with ongoing items marked with the red "Sale" sticker. We have a wide selection of reasonably priced quality products to make gift-giving a little easier on the wallet this year!
Cowboy Gear
If you're searching for gifts for a true cowboy, or an avid rider, make sure to look at our magnificently beautiful saddles. While it's hard to pick a favorite product, our saddles just might be it! The pride we take in our work is seen in the amazing quality and detail of each saddle we create. We also customize so don't let the options on the website hold you back. Contact us for more information on a customized saddle crafted and designed especially for you or your loved one!
Custom Items
If you like the idea of a custom gift but aren't shopping for a saddle, we can customize almost anything we sell. Our briefcases, notebooks, notepads, tumbler covers, and more can all be customized to your specifications. Additionally, if you see something that you like but it's showing "Sold Out", don't let that be a deterrent. Please reach out and we will provide a restock date and/or custom options for your selected item. Keep in mind handcrafting does take time so it may not be possible to have the gift designed, created, and shipped before Christmas, but we promise it'll be worth the wait!
Should you find that our shop is not exactly what you're looking for, we recommend you research other leather goods or try doing some leather work of your own! In our last blog post we highlighted uses for leather scraps which included repurposing leather goods for gift ideas. Wallets, pouches, keychains, etc. are all excellent stocking stuffers or main gifts for your friends and family. We always encourage repurposing and upcycling your leather items as much as you can. Not only is it better for the environment, but leather has such a special quality that should be shared with others. Whatever gifts you choose this holiday season, make sure to check out what we've got!