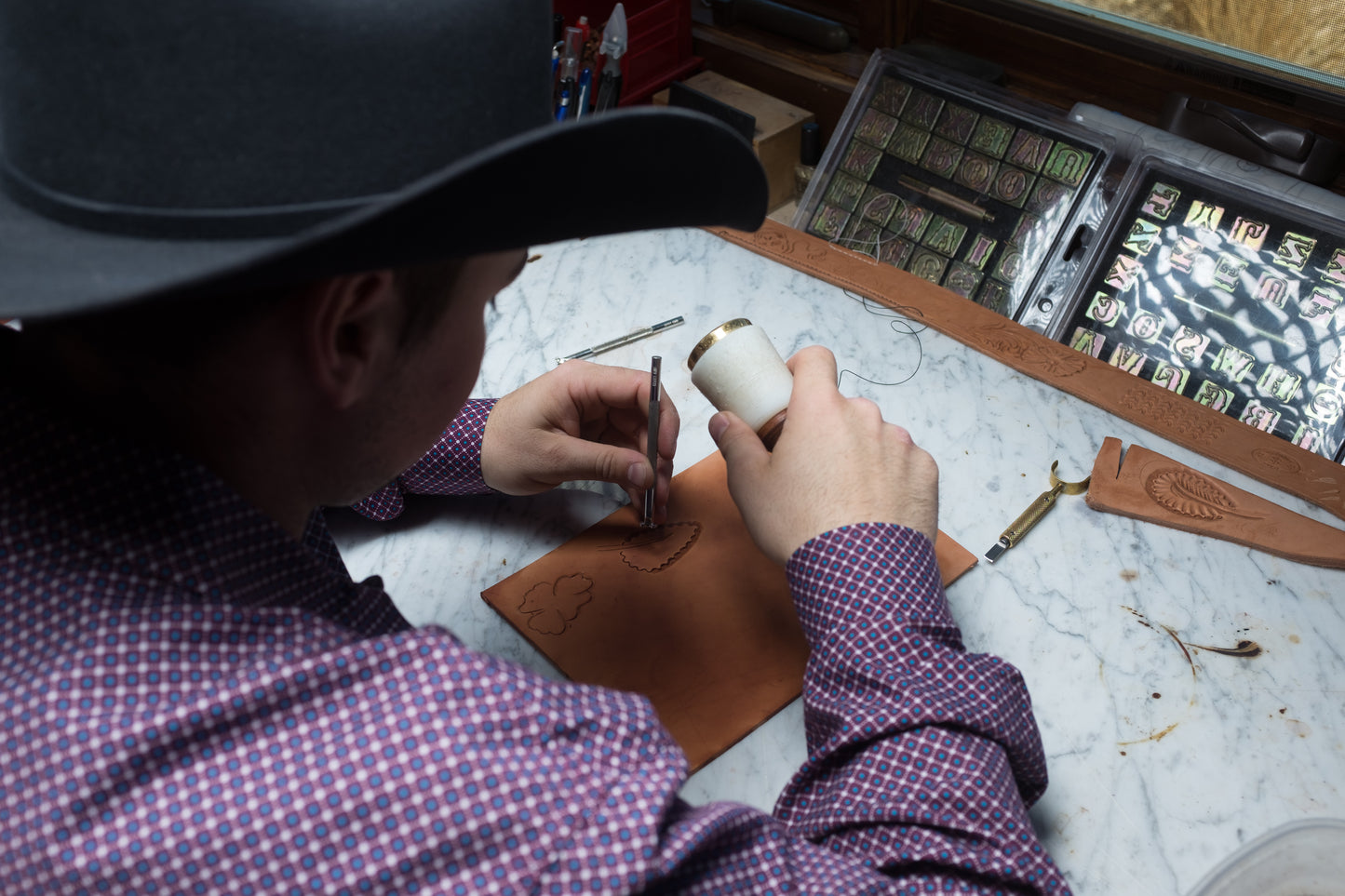 Finished with your leather crafting project and unsure of what to do with the scraps? Holding on to an old leather accessory that you're not sure what to do with? Did a relative give you a leather gift that's not entirely your style? We've got you covered! Keep reading to learn how to properly repurpose, recycle, reuse, or upcycle your leather discards! 
Repurposing Leather Goods
Leather is an extremely durable material that can last a really long time. Instead of throwing away unwanted leather items, we've outlined some alternative options. Repurposing the items is a great place to start. This can be as easy and simple as taking old leather belts and repurposing them as straps for a camera, making a decorative and unique dog collar, and even just turning them into leather bracelets. If you feel ready for bigger projects, you could take a collection of leather belts and use them as strapping for chair bottoms. Depending on the type of project you're looking for, repurposing leather material can be a quick and easy solution for your old items!
Recycling Leather Goods
Recycling leather goods can look like separating scraps that can be reused for new projects or donating pieces of leather that you consider unusable. If you decide to donate the pieces, we recommend looking up a local facility that will accept your leather goods. Unfortunately, not all recycling centers can accept leather. Due to the tanning processes, leather items must be recycled in proper facilities that are not damaging to the environment. There may be a local Planet Aid or Scrap It Up location that will happily take on your unwanted material. Your scrap pieces can then be turned into bonded leather, genuine leather, rubber, or acacia wood bark. If you're having trouble finding a facility, you may also consider online markets and/or social media. What is no longer of use to you, could be a lucky find to another!
Reusing Leather Goods
If you decide to reuse your own leather scraps, you may want to add to your collection by creating a variety of accessories. Not only is this a good way to recycle your own material, but you could also help recycle someone else's material as well! These accessory items could include small leather wallets, keychains, bracelets, rings, mouse pads, and coasters. With the holiday season around the corner, these items are perfect for stocking stuffers and gift-giving!
If you aren't ready to take on crafting projects in that way another idea could be to practice leatherworking on your scraps. Sharpen your leather stamping and tooling skills on scraps of leather that would be otherwise discarded. In doing so, you are allowing yourself the freedom to get creative without worrying about ruining a piece. Exploring different shapes and designs will help build confidence and prepare you for real projects. If you decide to go this route, just make sure to properly recycle these leather scraps when you are done practicing!
For larger items or items in better condition, donating to a thrift store is the best way to go. Give another person a chance to enjoy the leather jacket that you once enjoyed! Since leather goods, if taken care of properly, can last a lifetime, these items should be shared and passed down. Leather is one material that never really goes out of style, but can be updated for future use.
Upcycling Leather Goods
Another option is to upcycle your leather items. If you have a larger item, such as a jacket or large purse, you can cut them up to make many smaller items. Wallets, pouches, bracelets, and more! Again, this can be a practice to help hone your skills and a great way to make handmade gifts for friends and family. You may also find that this is a talent that will allow you to sell your items in farmer's markets and on websites such as Etsy. Many consumers love the idea of purchasing worn-in leather goods. By upcycling your leather items, you are allowing many more options for those in the market for leather products.
Repurposing, recycling, reusing, upcycling, and donating leather goods are great ways to utilize your items without just throwing them away. Use those old leather scraps and projects to practice your leather crafting and admire the results! If you need a creative jumpstart, read through some of these inspiring ideas! Or, if you do decide to discard your old leather, we recommend looking into a recycling facility. If you're not ready to create your own projects yet, be sure to check out the many beautiful leathercraft items we have to offer!