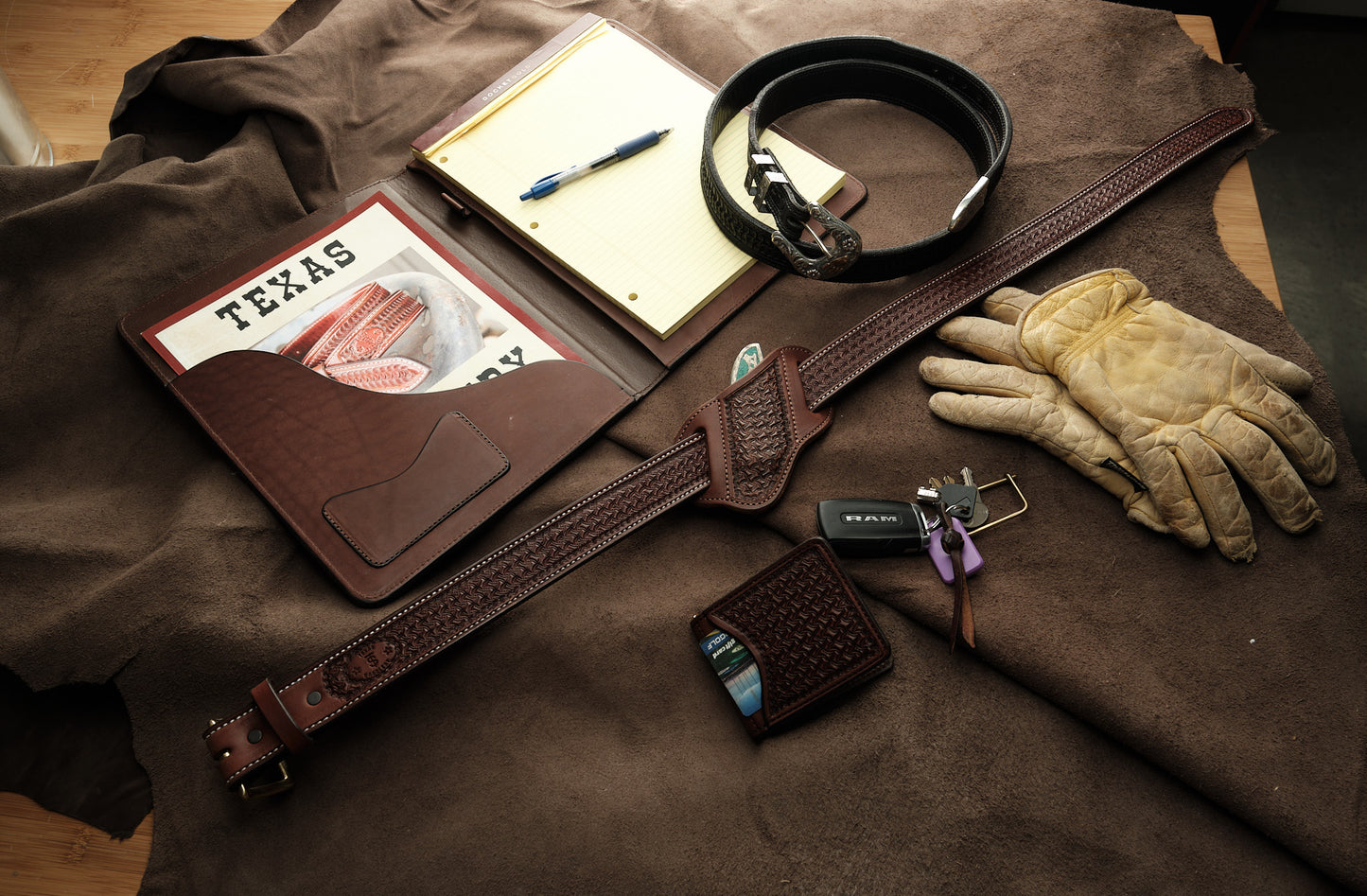 Leather crafted items are truly exceptional when it comes to gift-giving. They carry a level of sentimentality that few other gifts can match. When cared for properly, these pieces become lasting treasures, often accumulating memories and experiences as they age gracefully. They're not just gifts; they're heirlooms in the making, something that can be passed down through generations.
At Texas Saddlery, we understand the significance of crafting each leather item with a personal touch. It's not merely about creating products; it's about putting a piece of our dedication and craftsmanship into each item. We approach our work as if we were crafting something for our own family, ensuring that each piece is made with love and care.
When you choose a leather gift, you're selecting a unique and thoughtful present. These items are distinct in a way that mass-produced items simply can't be. From their texture to their timeless design, leather crafted gifts possess an artistry that sets them apart.
As the holiday season approaches, we're excited to remind our readers of the diverse range of gifts we have to offer. Whether you're seeking a custom-made piece or one of our many hand-crafted items, we have something that suits every need and preference. The personalization options we offer, from custom initials to unique designs, add an extra layer of meaning to each gift.
We believe that leather gifts are unbeatable for many reasons. Their lasting durability and classic styles make them stand out. Few other gifts can make such a lasting impression on their recipients, a token of your thoughtfulness and the embodiment of enduring quality.
Among our collection of cherished gifts, the Brown Rough Out Belt holds a special place. It's a classic piece that adds style to any outfit. But if you're looking for something in a different shade, our belt collection has a range of colors, including black, golden, and burgundy.
And it's not just belts! Explore our Home Goods Collection to find everything from beautifully crafted photo albums to stylish coasters and even wine carriers. These pieces combine function and elegance, making them perfect for those who appreciate both style and practicality.
For the equestrian enthusiast in your life, we have an array of saddle and tack items, including headstalls, nosebands, and reins. These are gifts that not only resonate with their passion but also showcase the enduring art of leatherwork.
If you can't find exactly what you're looking for, we're here to help. Reach out to us directly for a custom order, and we'll work with you to create the perfect, personalized gift.
In conclusion, giving leather goods as gifts is a wise choice for many reasons. The sentimental value, craftsmanship, and artistry that leather items possess make them an exceptional choice. They're not just gifts; they're expressions of love, craftsmanship, and lasting quality that will be treasured for years to come. When you give a leather gift, you're giving more than an item; you're giving a piece of enduring artistry and tradition.