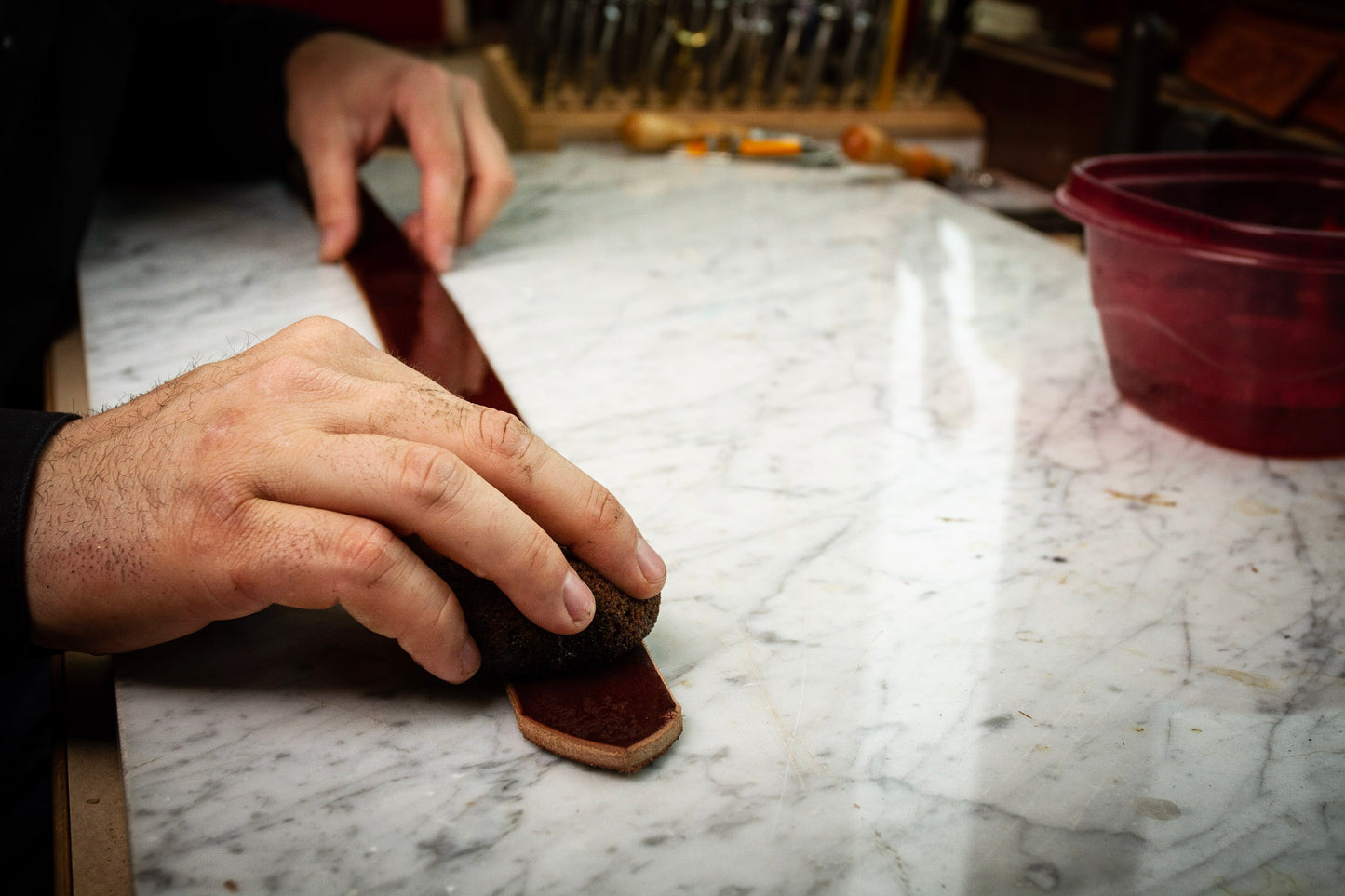 If you've been reading along with our blog posts, you've seen the exploration of leather goods as a hobby or side business. Part of the process is making sure your creations are lasting a lifetime. This month we have a guide to maintaining lasting quality leather goods. 
Leather products are a timeless choice. Whether it's a handbag, a wallet, a pair of shoes, or a belt, leather goods are known for their durability and style. However, to ensure that your leather items stand the test of time and maintain their quality, proper care and maintenance are essential. Read below for key steps to keep your leather goods looking and feeling their best for years to come.
Clean and Condition Your Leather Regularly
The first step in maintaining leather goods is to clean and condition them regularly, about every six months or so. Use a soft, damp cloth or sponge to gently wipe away any surface dirt or dust. For deeper cleaning, use a leather cleaner specifically designed for the type of leather your item is made from. We recommend researching leather cleaners to find the most appropriate one for your leather. Also, be sure to avoid using harsh chemicals or excessive water, as they can damage the leather.
Since leather is a natural material that can become dry and lose its luster over time, you may consider using a leather conditioner or cream to moisturize and nourish the leather. Apply the conditioner in a circular motion, allowing it to be absorbed by the leather. Conditioning not only keeps the leather supple but also helps prevent cracks and wrinkles, giving it a lifetime of use and style.
It's also important to address stains promptly. Accidents happen, and stains are a common issue with leather goods. If you spill something on your leather, blot the stain gently with a clean, dry cloth. Just be sure to avoid rubbing, as this can push the stain deeper into the leather. For stubborn stains, consult a professional leather cleaner.
Protect from Water and Store Properly
Leather and water are not the best of friends. Exposure to water can lead to staining, warping, and weakening of the leather. If your leather goods do get wet, allow them to air dry at room temperature and avoid using heat sources like hair dryers or radiators, as they can cause the leather to crack.
When you're not using your leather items, it's important to store them properly. Keep them in a cool, dry place away from direct sunlight. Avoid hanging leather items for extended periods, as this can cause them to lose their shape. Instead, use a dust bag or pillowcase to protect them from dust and light.
Rotate Usage and Protect from Scratches
If you have multiple leather accessories, like shoes or bags, consider rotating their usage. This prevents one item from experiencing excessive wear and tear. Additionally, using leather items in rotation allows them to breathe and maintain their shape.
To minimize scuffs and scratches that leather is susceptible to, be mindful of where you place your leather items and how you handle them. Store your leather handbag or wallet in a safe compartment away from sharp objects, and handle them with clean hands to prevent oil and dirt buildup.
Resole, Repair, and Rotate
For leather shoes, resoling and repairing when necessary can significantly extend their lifespan. Keep an eye on the soles and heels, and have them repaired or replaced by a skilled cobbler when they show signs of wear.
If your leather goods have zippers, buckles, or other hardware, make it a habit to gently operate and rotate them. This prevents them from getting stuck or becoming less functional over time. 
Although these are not tips for the leather specifically, they will ensure a lifetime of use of your leather accessory.
Conclusion
Proper maintenance is the key to preserving the quality and longevity of your leather goods. With regular cleaning, conditioning, and careful storage, you can enjoy your leather accessories and apparel for many years. If you are selling your leather creations, you can rest assured that the recipient will be able to get the most out of their new gift. 
Remember that each type of leather may have specific care requirements, so always follow the manufacturer's recommendations for the best results. By taking care of your leather items, you'll continue to appreciate their timeless beauty and enduring quality.