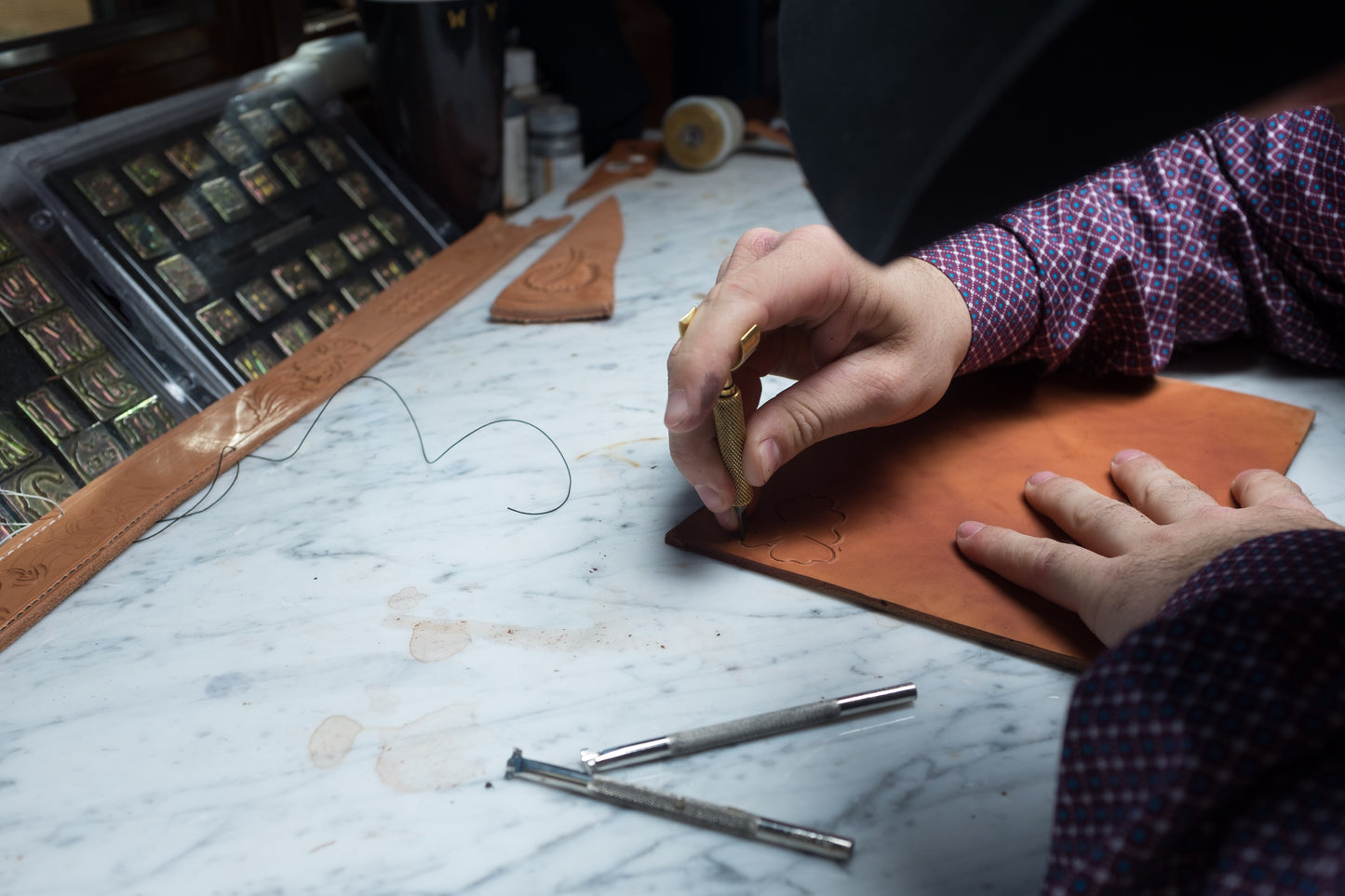 In last month's post we received a request to dive a little deeper into the use of knife work and floral designs, no pun intended. At Texas Saddlery we love showcasing our work and are happy to provide some tricks of the leather crafting trade. Below are some tips on how to get started and how to perfect your skills.
Getting Started With Knife Work 
As we mention every month, before starting any new project the first step is to make sure you have a clean workspace with all of your tools easily accessible. Choose the knives you'd like to practice with and also have leather scraps available. Using scraps is a great way to recycle leftover material and allows for plenty of practice. Techniques such as trimming edges and skiving (or thinning) the leather can be perfected, along with more intricate cuts such as curves and angles. These can then be used in different types of designs, like the floral ones we will discuss shortly.
We recommend watching tutorials and being patient with yourself while you get comfortable with the knives and cuts. You'll need a steady hand, so if you feel yourself getting stressed out, don't hesitate to take a break and come back to practice when you feel more refreshed. Make sure to keep your knives sharp and clean for the best outcome in your practice.
Creating Floral Designs
For specific designs, such as floral, it's best to remember that practice makes perfect. As with anything else, a slow and steady hand and lots of patience are critical in creating beautiful designs. Choose a soft mallet and the stamping tools you prefer to create your design, then gather your leather scraps and jump in. We've briefly discussed techniques in previous posts, however to reiterate, starting out with a light pressure from the mallet is the best way to test your stamping. You can then gradually increase the pressure on the stamp for a deepened design. Also, as mentioned above, if you're ready for more of a challenge, you can try using a knife to enhance your floral design. Small movements of cuts creating curves will accentuate any stamps you use. If you opt to use only your knife, you can design delicate patterns throughout your piece of leather, but consider sketching out the design before carving to give you a guide.
There are many stamping tools to choose from so feel free to get creative. Since you'll be practicing on leather scraps feel free to try many options, including working with your knife, to find a design style you like best and a tool you're most comfortable working with.
Finding Inspiration
If you find yourself needing some inspiration on floral designs, you can always explore our designs and be sure to check out previous blog posts for more information. We encourage you to experiment with classic designs as well as detailed patterns. Let your creativity allow you to produce a leathercraft item that is totally unique.
Our recent blog posts have followed a theme of creating your perfect workspace, gathering your favorite tools, and beginning your new hobby of leathercraft. We've explored different items to work on, and in this post, given more details on how to design these items. Floral patterns can be crafted using knives and stamping tools, adding captivating embellishments to leather products. These patterns are just one of many options of design you can use to craft the perfect leather accessory.