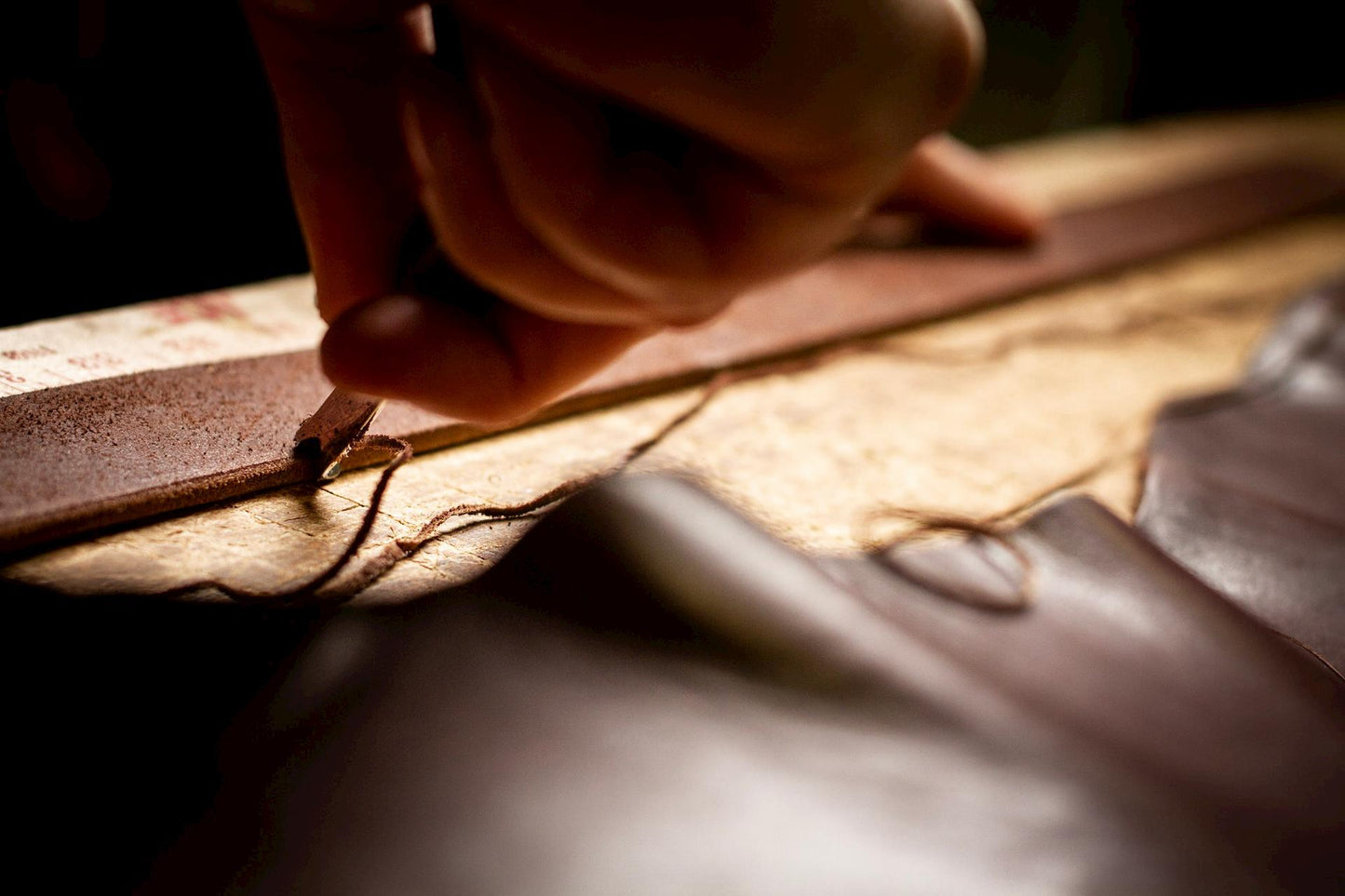 'Tis the season for giving and receiving gifts. We all know how frustrating it can be to find the perfect gift for everyone on your list. Everyone has different tastes, interests and lifestyles, so no one gift is fitting for all. However, leather can be a gift that you can give just about anyone.
Don't get confused, we aren't talking about just chunks or slices of leather. We're talking leather accessories like belts, wallets, notepad covers and so on. For each person on your list, a leather good is a good gift.
For the Man of the House
Dad, or men in general, can be really hard to shop for. They only need so many chainsaws, lawn mowers and underwear. So what do you get them? A quality, handmade leather belt.
A good portion of men wear belts with their pants or jeans. It's kind of a must accessory. So why not have a long-lasting, quality belt. You can even save money by not having to replace it as often. And the man will get to flaunt a quality leather belt. 
A leather belt is a good, simple gift for the man. So don't stress and worry, just check out the belt selection. However, with such high quality, you won't need to replace it anytime soon. So good luck with a gift idea next year!
For the Matriarch
It's probably safe to say that most people like looking at pictures, but there is probably a good portion of people that don't print out the photos for a photo album. But Grandma probably does!
So why not get Grandma a leather bound photo album. She will be able to keep her photos, both old and new, tucked away safe in the photo album. The leather cover will last a long time and help protect the photos from possible damage. 
The best part, you can customize the photo album cover! Customizing the photo album will give an extra special touch to the gift. And we all know that she'll love it!
You didn't know before, but you do now. Leather goods make good gifts even for grandma!
For the Newest Addition
When little tikes start walking, you can't always let them walk around with a bare bum. They need pants too. Which means they can benefit from having a leather belt as well.
The Texas Saddlery kids belts are similar to adults in that they are made of high quality, long-lasting leather. It will last them as they grow too. Just get a belt that is a little too big. Then as they grow they can continue to use the belt and just move down the belt holes.
Just like the adult belts, the kids belts are stylish and will pair well with any pair of jeans. Let the cowboy shine through in your little one with a quality leather belt that will match their boots!
For the Boss
Your boss can be one of the hardest people to find a gift for. How do you express your appreciation of them without getting something too personal. Leather accessories might be the answer to this.
A variety of options exist when looking at accessories, but the one that might seal the deal is custom tumbler covers. These leather covers can be customized. So you can have them made with initials or even a company logo. Again, they are made from high quality leather that will last them a long time.
Shopping for your boss can be difficult. But make it easy on yourself this year and get them a gift that will last and can be customized. Get them the gift of leather, more specifically custom leather tumbler covers.
For Just About Anyone
A simple, yet worthwhile gift you can give just about anyone is a Texas Saddlery hat. While these products are not all leather, they do have leather patches. These patches add a stylish touch and make your hat more unique.
Hats are a great gift to give that person on your list that you are really scratching your head about. (Pun intended!) They can appreciate a quality hat with stylish flare and modern design such as a leather patch.
Checklist Complete
With so many different different options, hopefully your gift checklist is either complete or close to complete. Even if you still have someone on your list you just aren't what to get them, check out the other leather goods. You might find something that fits!
You may not have realized before, but you do now that leather goods can make a great gift, for just about anyone. High quality leather goods provide gifts that last a long time. And they can even be personalized with custom designs!