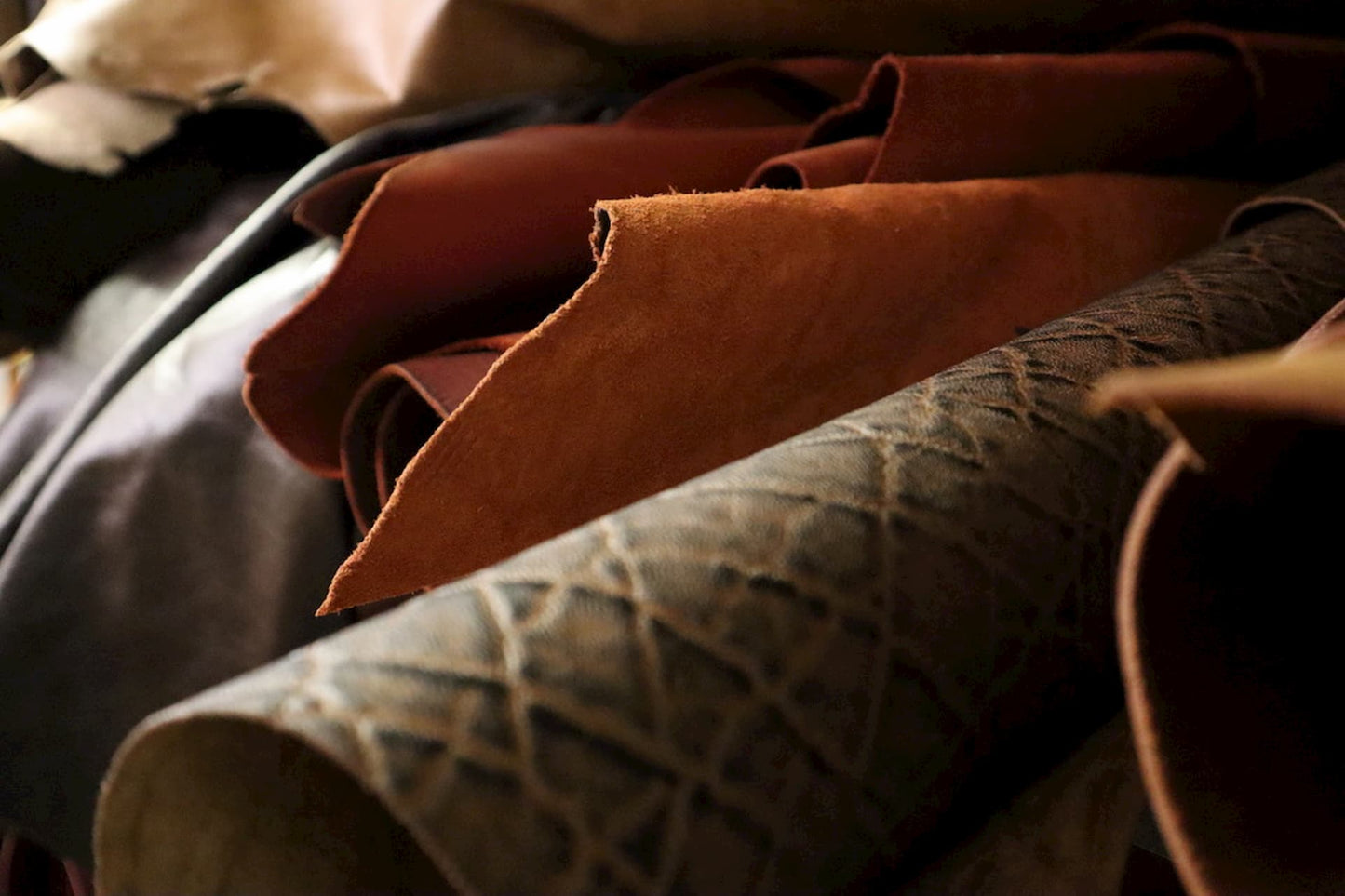 Leather is a flexible, durable material that is used for a variety of things. Being that leather is the hide from live animals, it has many characteristics and markings. It can also be hard to pick out and find quality leather without knowing the proper terms and types.
Characteristics of Quality Leather
Natural leather has many characteristics that help identify it as quality and true leather. Most of these characteristics are small things that have affected the leather in some way.
Scars in the leather hide form usually as a result of barbed wire damage, infestation, disease or horns from another cow. Once the skin is fully healed, it's as strong as the rest of the hide.
Veins or growth marks can help identify the age of the cow. Similar to graining on timber. They can range from pronounced marks, usually in the neck area, to subtle bands across the backbone. These marks are often seen on natural full grain leathers.
The variations in grain comes from the difference in fiber textures. In the belly and flank areas, the grain is looser compared to the backbone. The looser areas end up having more stretch. Similar to the grain, the hair pore structure is more noticeable in un-textured leathers.
Some other characteristics include branding marks, stretch marks and neck wrinkles. These can all pull through the hide to be seen. Proof of these characteristics are a good indication of quality, natural leather.
Most of these markings can be found in high quality leather. Leather manufacturers will not buff or sand out the markings, giving the leather a natural look. The markings can assist buyers in identifying top quality leather. 
What to Avoid
Just as there are ways to identify quality leather, there are things to avoid.  A lot of leather is passed off to be quality, natural leather, but it's not.
One of the biggest things that confuses people with leather is when it's stamped or advertised as genuine leather. It would seem that this is natural, real leather, right? Wrong. It is made from leather, but usually from leather scraps and then bonded together. This results in the leather splitting apart. Don't be fooled by genuine leather.
Bonded leather is another one to avoid. This leather is made from scraps and fibers that are glued together. It's then made into sheets of leather. It won't be long before this kind of leather splits and cracks.
The best way to make sure you are getting natural, real leather is to have full grain leather. Full grain is the best quality. It also helps to get leather products made with U.S. hides, like Texas Saddlery belts and accessories.
Types of Leather
Leather hides are usually split into two types. The top layer is the one closest to the hair and it's called top grain for full grain. The bottom layer is the split leather, typically what genuine leather is made from. 
Full grain is the best quality leather. It shows all the imperfections and flaws. It has beautiful markings like healed scars and other wrinkles. This leather is the strongest and most valuable type of leather.
Corrected grain is the second highest quality. Imperfections are usually buffed from the grain and heavily pigmented to not show the original grain.
Split leather is the layer farthest from the grain making it the lowest quality and usually the cheapest leather. It's usually used for suede and not as durable as full grain leather. 
At the bottom of the list is bonded leather. This is leather made from scraps and bonded together with glued. It is often imprinted and given a finish to imitate grain. Since the leather is built from leather fibers and scraps, it is quick to crack and split.
There are many types of leather and the names can be deceiving. For high quality, buy full grain leather. It will last longer and is much more durable.
Our Commitment
At Texas Saddlery, we do our best to find the best quality leather. We know the importance of providing our customers with quality, long lasting products. That means using natural, full grain leather to craft our leather goods.