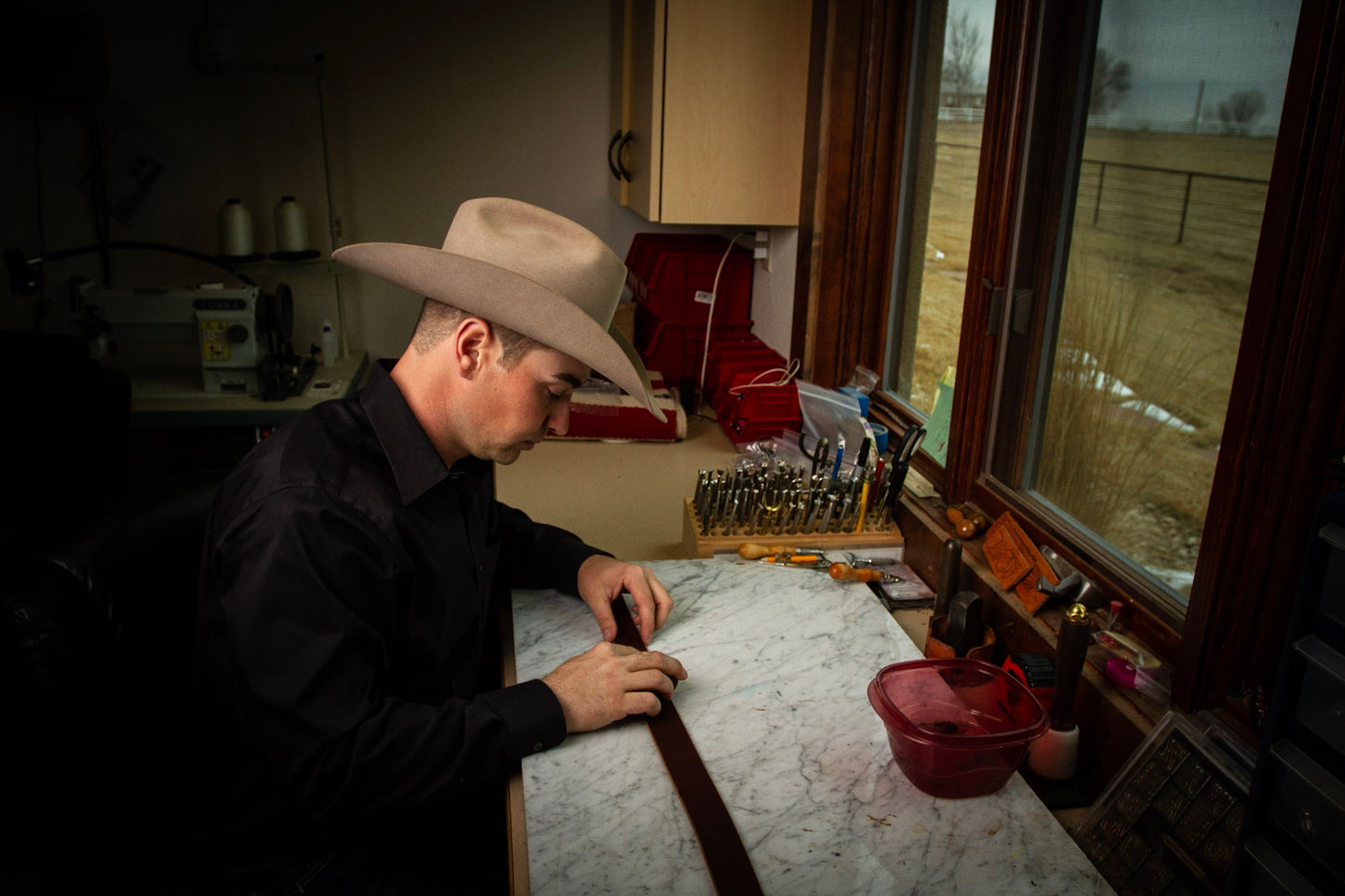 In last month's blog post, we explored the care and maintenance of your leather working tools for ensuring their longevity and precision during use. Another important piece of leather crafting is creating the perfect workspace for creativity and the execution of your hobby. Below, we have some helpful tips on how to design the ideal space and make it your own.
The Space
With any hobby, it's important to have a space that is dedicated to your craft. This is where your ideas will come to life. Some people prefer using an area in their garage or existing workshop. The location really just needs to encompass what is important to you as the craftsman; however, we do recommend this space be somewhere you can concentrate and focus with minimal distractions. It should be a well-lit area that you are able to keep clean and organized. The workspace does not need to be large; however, make sure you have room to spread out for bigger projects. A large, flat hobby desk or craft table is recommended to allow for plenty of surface room. Not only are you able to design and craft on the surface, but underneath can provide extra storage. Now that our space is set up, let's discuss the wide range of tool organization options available to help keep everything in its proper place. 
The Pegboard System
Now that your area has been set up for your creative process, let's talk tool storage and organization! Depending on the space available in your workshop, some crafters prefer installing a pegboard system. This system consists of a wallboard with holes and hook attachments. The hooks are removable which means you can reposition the tools and accommodate new ones as needed. The pegboard system allows you to hang all of your tools on full display. Being able to see your entire collection is helpful as you explore new leather crafting patterns and designs, and it will allow you to see what tools you already have. As your tool collection grows, you may consider outlining each item on the pegboard as a way to remember where everything goes. This is also helpful for keeping track of tools that may otherwise go missing. The pegboard can act as a checks and balances system of knowing what you have, where you have it, and what tools you still need to collect to complete more elaborate projects.
Storage Boxes
If a pegboard is not your style or if you find you do not have room for one, you may also consider storage boxes. These can stack on top of each other and/or fit neatly under your desk. Depending on the size of the boxes, they can hold much more and are convenient for moving things around. You can also label each box and get insert trays, so that organization and knowing what you have, and where you have it, is still available to you. You might also consider getting clear boxes to allow for better visibility of your tools. 
Toolboxes and Rollups
For leather workers who are just starting to build their tool collection and aren't ready to invest in a full pegboard setup or storage box system, a simple toolbox or tool rollup may work well for everyday tools. With the toolbox, you might find you need to sort through the tools more often to find what you need; however, if you don't have many or don't mind sorting through them, an everyday toolbox could be a simple, perfect solution. They are typically small and lightweight, which allows for ease of movement in a smaller working space. The tool rollup is a similar, easy storage choice. A tool rollup is a fabric pouch that contains individual slots for your pieces. When unrolled, everything is laid out for you, and when rolled up, it transforms into a portable bag. The rollup is especially convenient for traveling with your tools, and can also be useful in the event you need to keep the tools locked away from young children or others sharing your space. The softness of the pouch can also prevent scratches or other damage to your tools.
Employing a simple design like the one mentioned for your leather crafting workspace can be a fun way to motivate yourself to start creating. The space should be clean and organized with good lighting (like natural light or a ceiling light), and get you excited to work on new projects. Create this area as a place you want to be and you'll have no trouble making time to work on leather crafting. Once you have your space put together, we'd love to hear from you and see pictures! Comment below and share!